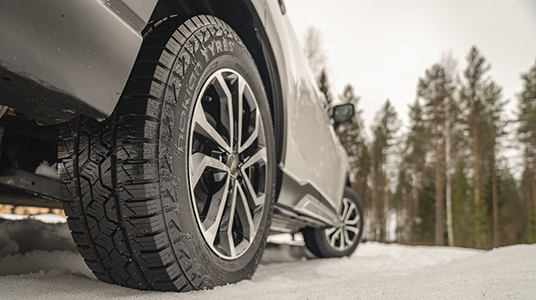 MEET THE NOKIAN TYRES OUTPOST FAMILY
Introducing the Outpost Family by Nokian Tyres – tires forged for drivers who want their journeys to be boundless.
Nokian Tyres Outpost Family of Tires
Nokian Tyres has been manufacturing tyres for over a hundred years, and they're now available at select retail outlets across the country.
The Outpost family of tires are designed for versatile use, whether you're driving on gravel roads or navigating city streets. With Nokian's excellent reputation for quality and performance, these are sure to be a great addition to your inventory.
Introduce the Nokian Tyres Outpost family of tires
The Nokian Tyres Outpost family is the ideal choice for all-season performance in all terrains. Whether you drive a sedan, SUV, pickup, or crossover vehicle, you can trust the innovative design and engineering of Nokian's all-season tires. Specifically designed for SUVs, pickups, and crossovers that require a higher load capacity than passenger cars, these all-season tires tackle all conditions, from city roads to dirt roads, with equal poise. A wide range of sizes means there's sure to be an Outpost tire for all types of vehicles – and no matter your choice, you can be confident that it will expertly perform all year round.
The Outpost tires are forged to withstand the toughest driving conditions and are naturally included in Nokian's Pothole Protection program on both the AT and APT tires.
Thanks to cut-resistant Aramid Fibers embedded in the sidewalls, we have so much faith in this tire's durability that they are offering a Pothole Protection warranty: If your Nokian Tyres Outpost tire is damaged beyond repair by rough roads, potholes, or curbs, they will replace it free of charge.*
The Outpost tires get their durability from our Nokian's Aramid Technology – puncture-resistant Aramid fibers, the same material used in bulletproof vests, embedded in the tires' sidewalls. You can read more about it here!