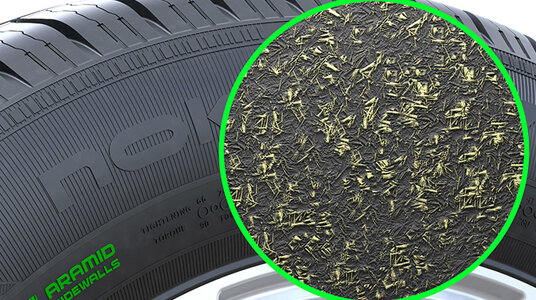 Nokian Tyres Aramid Technology
We have a strong lineup from Nokian here at Tireco Distributors™, and we don't just mean the breadth of what we offer.
Are you familiar with Aramid Technology? Nokian Tyres has models with specialized Aramid fibers, which make it similar to the bulletproof technology available in high-protection items.

What does that mean?
HOW ARAMID WORKS
Bulletproof vests are built to absorb the energy of a bullet. Aramid fibers reinforce the vest, providing extra strength that intends to keep wearers safe.
While we don't recommend shooting at your tires, Aramid works in much the same way in the products in which we employ the super-strong fiber. We include cut Aramid fiber cords in the sidewall compounds of select products. They're randomly scattered throughout the compound to help provide that additional strength.
One of the key terms we use is that by adding Aramid, it adds mechanical strength to the sidewall. When tires hit a road hazard, Aramid is able to disperse the energy over a wider footprint, reducing the chance the damage will be catastrophic to the tire and force it to be removed from service.

PRODUCTS THAT INCLUDE ARAMID

The latest generations of Nokian Tyres' SUV, light truck and cargo van tires all include Aramid in the sidewalls. With Nokian Tyres One HT, in LT-metric sizes, they've also included the Aramid in the base compound below the tread.
That helps with puncture resistance in addition to providing mechanical strength.
And for the first time, Nokian also included Aramid in the sidewalls of a passenger tire, the new Nokian Tyres One. Nokian is so confident in the strength it provides that they offer a Pothole Protection warranty for the Nokian Tyres One – if a tire is damaged beyond repair by a pothole or other road hazard, they will replace that tire for free.* Here's more information about that program.

What is Pothole Protection?

Nokian Tyres is so confident in The One that they offer the Pothole Protection warranty to drivers who purchase the tire.
So, if a road hazard damages the tire beyond repair, Nokian Tyres will replace it at no cost.
Extremely durable Aramid fibers stiffen and reinforce the sidewall to make it exceptionally resistant to wear and cuts. The Nokian Tyres One is the first passenger car tire to provide this level of protection.
Take a look at the video below to see Aramid in action and learn more: